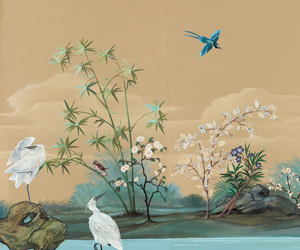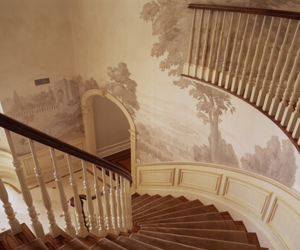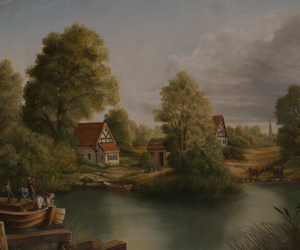 BEAUTIFUL WALL PAINTINGS AND MURAL DESIGNS. Our wallcovering designs are reproduced from our original hand painted designs, printed to your room specifications and shipped anywhere in the world. See our Installation Page for more details.
Our goal at Fowler le' Maison is simply to provide wall painting designs at affordable prices to the home owner or interior decorator, while still creating a chic, timeless and sophisticated environment. This has been accomplished by producing high quality wallcoverings of our hand painted scenics that were created by our skilled artists. Our wallpaper creates a continuous landscape scene that wraps around a room and will bring it to life, just as the original does!

Hand painted scenic murals have been used throughout ancient history as a unique and exciting form of interior decoration. The Chinese, as early as
200 bc, adorned their walls with masterful paintings of birds, flowers and landscapes, bringing warmth and texture to their everyday surroundings. Sometime in the 1500's, the French took the idea of painting on fabric and paper to a new level, closer to how we perceive scenic wallcoverings today.

These antique papers and painted scenes have greatly inspired Fowler le' Maison to create their own interpretation of these designs,regarding the
opulence of China, the bold colours of Italy, and the soft serene hues of France as our palette. Golden raw siennas, venetian reds, cobalt blues, ochres
and umbers, all tinted down to the pale shades of the earth, come together to create balance and beauty in our finished works of art.